21 October, 2019
Roast Broccoli Hero Sandwiches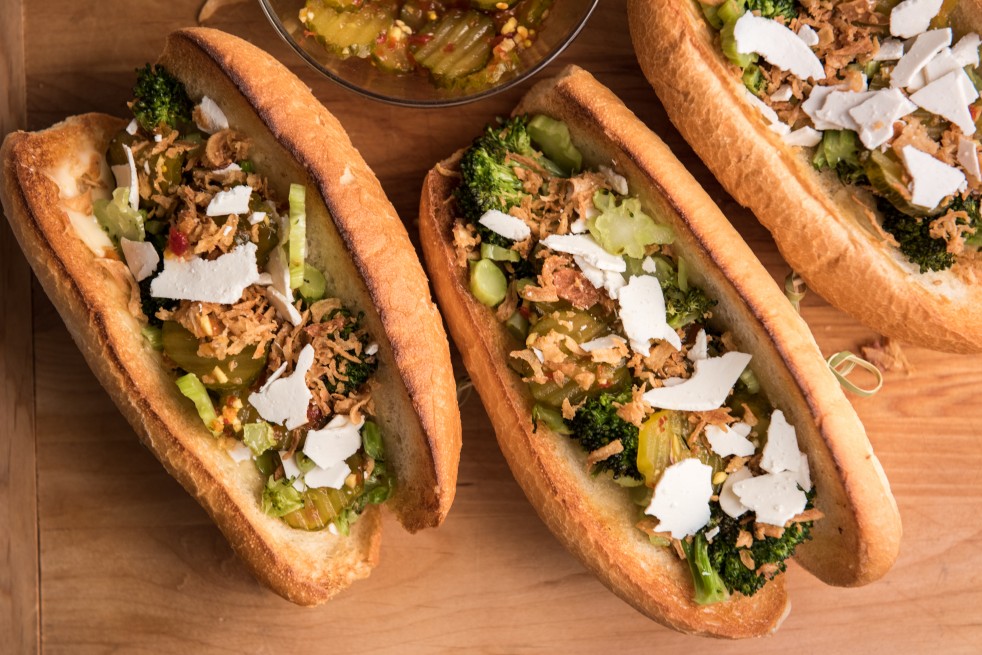 Posted in :
recipes
on
by :
Dave
Tags:
Roast Broccoli Hero Sandwiches
INGREDIENTS
1 cup bread-and-butter pickles, drained, plus 1/2 cup of their brine
1 clove garlic, finely chopped
1 tablespoon finely chopped peeled fresh ginger root
2 tablespoons Asian chili sauce, such as Sriracha, sambal oelek or gochujang
1 teaspoon toasted sesame oil
1 medium head broccoli (about 1 1/4 pounds), chopped into florets, stalk thinly sliced into coins
2 tablespoons extra-virgin olive oil
1 teaspoon kosher salt
Four 6-inch French bread rolls
1/4 cup mayonnaise
1/2 cup prepared fried onions (preferably Lars Own Crispy Onions; see headnote)
2 ounces ricotta salata, shaved
DIRECTIONS
Preheat the oven to 400 degrees.
Combine the pickles and brine, garlic, ginger, chili sauce and toasted sesame oil in a medium bowl. Marinate at room temperature while you make the sandwiches.
Toss together the broccoli, oil and salt on a large baking sheet; roast until the broccoli is bright green, is starting to brown on the edges and is easily pierced with a fork but not soft, 15 to 20 minutes. Let cool.
Position an oven rack 4 to 6 inches from the broiler element; preheat the broiler.
Split the rolls, leaving them hinged. Open them and set on a large baking sheet and lightly toast under the broiler, 1 to 2 minutes; watch closely to keep them from burning.
To assemble the sandwiches, lightly spread mayonnaise on the insides of the rolls. Divide the roasted broccoli evenly among them. Use a slotted spoon to lift the pickles out of their marinade and evenly distribute them on the broccoli, then layer the fried onions and ricotta salata on top.
Serve the pickle marinade with the sandwiches, for dipping.
Make Ahead: The pickles can marinate in the refrigerator for up to 5 days in advance.