3 March, 2010
Scotcheroos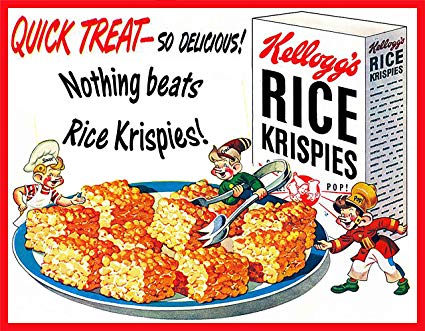 Comments : 1 Posted in :
dessert
,
recipes
on
by :
Dave
These are a family tradition with my in-laws. Whenever two or more are gathered together, these sweet treats are made. (They've made them so often, there are metal cake pans that have scored cut marks in the bottoms.) They're really delicious and pretty easy to make, and great for pot-luck suppers. Unless you try serving them to a room full of diabetics, you'll never, ever have leftovers.
1 cup sugar
1 cup light corn syrup
1 cup smooth peanut butter
6 cups Rice Krispies® cereal
1 small bag (12-16 oz) semi-sweet chocolate chips
1 small bag (12-16 oz) butterscotch chips
In a 3-quart saucepan, combine the sugar and the corn-syrup and bring to a boil. Remove from the heat, and stir in the peanut butter, and mix well. Add the cereal, stirring until blended. Press the mixture into a buttered 13x9x2-inch sheet pan. Melt the chocolate and butterscotch chips together in a double-boiler, or use a microwave: half power for 3 minutes, stirring, and then up to another 2 minutes. Spread melted mixture over the Rice Krispies® mixture in the pan. Cool until firm, and cut into squares. Do not refrigerate!
1 COMMENT