13 December, 2009
Braised Lamb Shanks with Barley and Winter Roots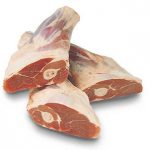 2 or 3 lamb shanks
salt
1 onion, chopped fine (or substitute the same quantity of leeks)
3 or 4 carrots, peeled and cut into 1 inch pieces
3 or 4 parsnips, ditto
2 or 3 turnips, ditto
1 can of tomato paste
6 whole cloves of garlic
16 oz. good english or trappist beer (or substitute cider, stock, or water)
misc herbs (thyme, rosemary), chopped, to taste
2 or 3 bay leaves
4 or 5 crushed juniper berries (optional)
ground black pepper and salt to taste
1 cup pearl barley, rinsed
1 teaspoon salt
2½ cups chicken stock (or water)
Preheat the oven to 300°F.
Season the shanks with salt and brown on all sides in a hot cast iron pan — 3-5 minutes per side.
In a good sized dutch oven, brown the onions and vegetables in a little butter or oil until the onions have gone translucent. Add the tomato paste, and stir, cooking the tomato paste for a couple of minutes. Add the herbage, the spices, and the garlic, as well as the shanks. Pour over the beer and bring to a boil, stirring. Cover, and cook in the oven for 2-4 hours, checking occasionally, turning the shanks. Keep cooking until the meat pulls from the bone easily.
45 minutes, before serving, bring the chicken stock and the salt to a boil in a lidded saucepan. Add the barley and resume boil, then simmer, covered for 45 minutes, until liquid is gone, and barley is soft but still chewy.
Remove the shanks from the pot, and take the meat off the bone, cutting it into bitesized chunks and removing the fatty bits and any gristle. Remove the bay leaves and optionally, the juniper berries that you can find. Return the meat as well as the barley to the pot and stir.