Fri, Apr 18 •
0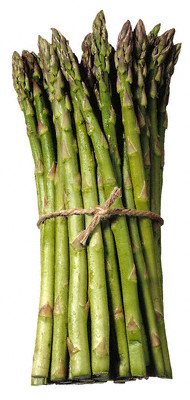 (This post is the first in a series of posts planned for Cooking Monster, where we'll take an item that's in season right now, and help you figure out delicious ways to take advantage of them.)
Asparagus is at its peak in the months of March, April, and May. Whether you prefer thick or thin asparagus stalks, look for specimens with tight, closed buds. White asparagus is exactly the same plant as green asparagus, but they've been grown in the dark to prevent photosynthesis, with the farmer either mounding the dirt over the plants as they grow, or by covering them with a box.
The bottoms of the stems tends to be a tough and inedible. You have two options of dealing with this problem. Option one has you taking one stem in your hands and bending it until it snaps, then trim the rest of the stems to that length. Option 2 has you trimming off tough green skin towards the bottom, and then snapping it off further down.
One easy, delicious method of cooking asparagus is to roast it, which will intensify the flavor. Toss trimmed asparagus in a bowl with some olive oil and plenty of salt. Spread them out in a single layer on a sheet pan, and roast in a hot oven for 15 to 30 minutes, depending on the thickness of the stalks. Or toss them on the cool side of the grill for a smoky flavor.
Another of my favorites is to make an asparagus risotto…