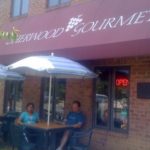 There's a little sandwich shop named Sherwood Gourmet, not too far from where I live, that I've been trying to help stay in business all summer long, even though they managed just fine without me for over 2 decades. My wife suggested we try it one day, and I've been going once or twice a week, feeding myself, my wife, and any number of my nephews, who have been working to help get my back yard into some kind of shape. Their prices there are only slightly more expensive than those at the Subway chain, so we're trying to work our way through their extensive menu of sandwiches. Mind you, there are about 2 dozen different choices from their list of standards and all have been very good, but here are some stand outs worth recommending.
#1 — Little Italy :  Mortadella, capicolla, salami, provolone, lettuce, tomatoes, red onion, oil & vinegar, hot peppers, on a kaiser roll.  This is a popular sandwich among my small circle of taste-testers. One nephew has ordered it twice, though he's decided it needs extra hot peppers. I think the amount they put on is fine. $6.99
#2 — Suzanne's Favorite (aka The Suzy) : Smoked turkey, black forest ham, havarti cheese, lettuce, honey mustard, on rye. This is my wife's sandwich of choice. $6.50
#3 — The Hawaiian : Sweet challah bread, avocado, chicken tarragon salad. I have no idea why this is even remotely related to Hawaii. Maybe it used to use hawaiian sweet bread at some point. The chicken salad has a noticable and pleasant tarragon flavor. I think I prefer this on whole wheat, though. $5.99
#4 — Sherwood Egg Salad : Egg salad on toasted pumpernickle with lettuce. As simple and basic as it gets but very satisfying. $4.50
#5 — Bumble Bee: Black forest ham, smoked turkey, swiss, onions, honey mustard, on challah. The onions provide a nice bite. We prefer it on something other than the challah, though. $5.99
Honorable mentions :
FCPD (presumably "Fairfax County Police Department") : Hot pastrami, provolone, on a baguette toasted with onions, yellow mustard, a little mayo, and pickles. This is a pretty huge sandwich. One nephew managed to finish it, but decided he'd eaten too much. It's a hot sandwich. I've yet to order it and taste it for myself. $6.50
South of France : Pate de Champagne, brie, dijon mustard, lettuce on a baguette. This is a rich sandwich. You have to really like pate to enjoy it. We've ordered it a couple of times. I found the pate to be a little much, but one nephew calls this sandwich his favorite. It's also the most expensive sandwich on the menu. $7.50
The staff that works there is incredibly friendly, and if you can't find something that appeals on their regular menu, they'll happily make substitutions, or help you come up with something that suits you exactly. I still have a bunch more sandwiches to try. In the meantime, you should go visit them at 7900 Andrus Road, in Alexandria, VA, two blocks south of the Sherwood Hall Library.
Sherwood Gourmet
703-799-4041
M-F 7a-7p Sat 9a-6p Sun 10a-4p