Posted:
Tue, Mar 2
Filed under:
musings
Written by:
Dave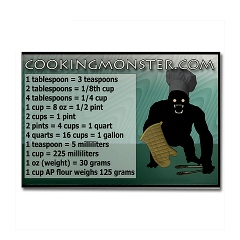 One lucky Cooking Monster reader will win a free refrigerator magnet. It has many useful measurement conversions, to help you in the kitchen. All you have to do to qualify is leave a comment on this post telling us your favorite springtime food is.  One entry per email address, only. For an extra chance to win, add yourself to our Twitter Followers!
Contest ends APRIL 15, 2010.
This contest has ended. Please visit for future Cooking Monster Give-a-ways.
ASPARAGUS!  love love love it.  And if I don't win – I totally need to buy this magnet- we have a desperate need!

Megan — Tue, Mar 2 @ 9:12 am

---

The magnet looks pretty cool, but since someone else commented I stand no chance! I never win these things. If by some chance I do win you'll be wanting to redraw to keep the cosmos in check.
But my favorite springtime food are peppers!

Christopher Jorgensen — Wed, Mar 17 @ 9:37 pm

---
Sorry, the comment form is closed at this time.