What's for dinner? Roast Duckling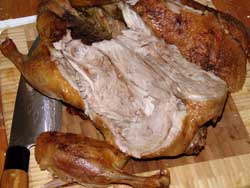 Harris Teeter had fresh duckling on sale the other day, and I just couldn't resist.
I used Ina Garten's technique of lightly scoring the duckling's skin with a fork, and cooking it in hot chicken stock for 45 minutes, which gets rid of a lot of the fat, letting it dry off for 30 minutes, and then roasting it in a really hot, hot oven (500°) for 30 minutes, followed by a rest for another 30 minutes. Before roasting, I tossed a little salt and pepper on the outside, as well as a little chinese five spice, but if I'd had my act together, I would have made it the way my mom used to … by basting it with some honey and curry towards the end of the roast.
While the duck was resting, I used some of the oil in the pan to fry up some onions and parboiled potatoes. The skin turned out pretty crisp, and not at all flabby. Still, needs more work. Unfortunately, my wife refuses to touch duck, so while I ate duck, she had steak. (Also, I meant to snap a picture before I started carving. Sorry about that!)